Cambodian athlete impresses with resilience and determination despite odd circumstances
Bou Samnang from Cambodia inspired many by finishing her race, even though she came in last place. She showed determination and resilience, especially amid a heavy rainstorm during the Southeast Asian Games. Her spirited performance served as an inspiration to others and showcased her strength and perseverance.
Bou Samnang, a 20-year-old Cambodian runner, has shot to internet fame after she decided to complete a 5,000-metre race despite heavy rainfall. Her courageous act has been admired by nearly 700,000 viewers on social media platforms, including Twitter, where The Olympic Games and other accounts shared the footage of her persistent endeavour.
The race took place earlier this month at the Southeast Asian Games. Samnang was the last runner on the track when a sudden, intense downpour began. Regardless, she decided to continue her race. For a heart-stopping 90 seconds, she was the lone runner on the track, battling the elements and her physical limits.
In a conversation with olympics.com, Samnang revealed that she knew about the possible rain in the forecast. Still, she hadn't anticipated such a heavy downpour. She vividly recalled the challenging conditions of the race on May 8, including heavy rain, strong wind, and the threat of thunder and lightning. Despite these obstacles, the video of her resilient performance gained popularity online, attracting a vast audience that admired her determination.
Completing the race brought about a wave of emotions for Samnang. Thi Oanh of Vietnam had already finished and won the race six minutes before her. But for Samnang, the victory wasn't just about crossing the finish line first. "The support from the crowd and the honour of representing Cambodia motivated me to finish the race. I had the right to stop, but I couldn't," she expressed.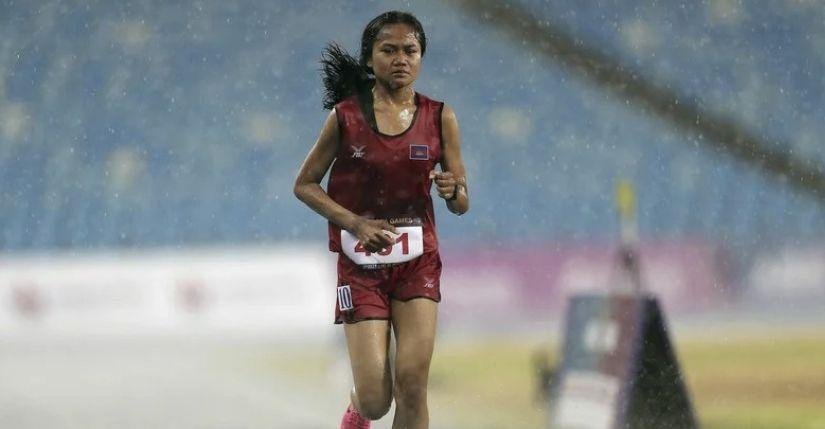 Samnang also bravely confessed that she had been battling anaemia and wasn't feeling well on the race day. She could have chosen to withdraw, yet she believed it was crucial to represent her country and see the race through.
Her brave act of continuing the race alone for 90 seconds in the pouring rain led to widespread admiration on social media. Fans from all corners of the globe praised her spirit. "She is a winner in my book. Heart of a Champion!" one Twitter user commented on the video posted by The Olympic Games. Others encouraged her, saying, "Well done, girl… keep it up!" while another added, There is no one who can diminish the value of a person giving their best, regardless of their position in the race.
The applause and recognition for Samnang weren't just restricted to social media. Her determination also earned her official recognition and reward. Prime Minister Hun Sen announced that Samnang would receive $10,000 as a reward for her perseverance, NPR reported. Additionally, Cambodia's King Norodom Sihamoni also praised the young athlete.
Bou Samnang's decision to finish the 5,000-metre race in torrential rain has transformed her into an inspirational figure, both in her home country and across the globe. Her brave and resolute display, coupled with her humility and sense of national pride, serves as an exceptional illustration of the power of determination and perseverance.
In her own words, she shared her motivation, "I aimed for the finish line to demonstrate to others that in life, regardless of our pace—whether slow or fast, we will eventually arrive at our destination. Thus, we must never surrender. We should always give our best effort.