The emirate of Dubai, a global hub for commerce and finance, hosts numerous insurance companies providing a wide array of insurance solutions. These range from personal insurance plans like health, life, and motor insurance to business-specific policies encompassing liability, property, and professional indemnity insurance. Choosing the right insurance provider can be daunting in a market teeming with options. To aid you in your search, we've curated a list of Dubai's top 10 insurance companies. These companies have been selected based on various factors, such as the range of policies offered, premium rates, claim settlement ratios, customer service, and reputation in the market. Remember, when choosing an insurance company, you must consider your individual or business needs, the company's financial stability, and the policy terms. Here are the top 10 insurance companies in Dubai.
ADNIC
NGI
Yallacompare
Orient Insurance
Sukoon Insurance
Dubai Insurance
MetLife
GIG Gulf (AXA Gulf)
New India Assurance
Zurich Insurance
1. ADNIC
Abu Dhabi National Insurance Company (ADNIC) PJSC, established in 1972, is a renowned insurance provider servicing the Middle East and North Africa (MENA) region. Headquartered in Abu Dhabi and listed on the Abu Dhabi Securities Exchange, ADNIC offers comprehensive insurance and reinsurance services to both individuals and corporations. Boasting a robust balance sheet and financial maturity, as of December 2022, ADNIC's equity reached a remarkable 10.23 billion. This financial strength, coupled with their operational excellence, reassures clients of their reliability during critical times. The company's diverse product portfolio, ranging from commercial to consumer insurance, is customizable to meet the evolving needs of various market segments. A firm believer in social responsibility, ADNIC has partnered with reputable organizations, contributing towards local conservation projects and pandemic-related social causes. ADNIC's commitment to quality service and business excellence is also reflected in its ISO 9001:2015 certification and numerous industry awards.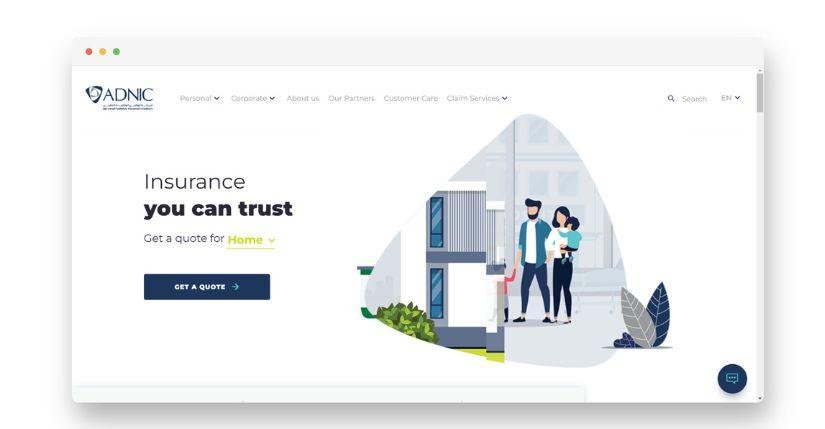 Products Offered :
Medical Insurance for Retirees
Personal Watercraft Insurance
Contact Details :
Phone: +971 2 408 0900
Email: info@adnic.ae
Website: https://adnic.ae/
2. NGI
National General Insurance (NGI), founded in 1980, stands as a reliable insurance provider in the UAE, devoted to safeguarding individuals and businesses against unforeseen events. Central to their ethos is a people-first approach, placing the needs of their customers at the core of their operations. NGI is a leading composite insurer, publicly listed on the Dubai Stock Exchange, and is financially backed by prominent shareholders such as Dubai Investments and Commercial Bank of Dubai. Moreover, they boast an "A-(Excellent)" rating from AM Best and are supported by top-tier global reinsurers. NGI's expertise spans underwriting and claims, providing a broad portfolio of insurance solutions, from personal accident to property and general accident insurance. With a strong operational presence throughout the UAE, NGI is committed to high-quality customer service and prompt claim settlements, reflected in its impressive 95% claim satisfaction rate.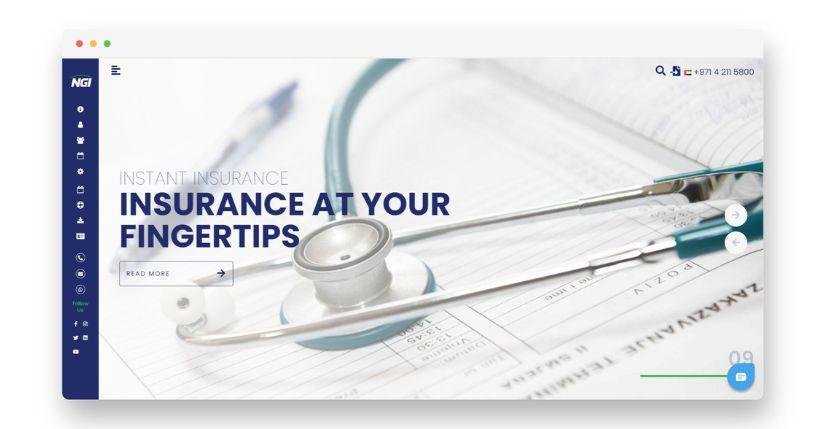 Products Offered :
Personal Accident Insurance
Contact Details :
Phone: +971 4 211 5800
E-mail: customerservice@ngiuae.com
Website: https://ngi.ae/
3. Yallacompare
Yallacompare is the premier finance comparison platform in the Middle East, serving as a bridge between consumers and a multitude of financial services providers. From credit cards and personal loans to insurance and bank accounts, Yallacompare equips users with the resources to compare and choose the best offerings tailored to their needs, sourced from a wide array of local and international banks and institutions. Operational in nine countries, Yallacompare is committed to embodying its core values in every aspect of its service. Their decisions are driven by a thorough analysis of data to understand and cater to customer needs effectively. The platform prides itself on its accessibility, transparency, and fairness, prioritizing open communication and honesty in its interactions. Yallacompare's commitment to going above and beyond ensures top-notch service, persistently striving for success and perfection in their pursuit to satisfy both customers and employees.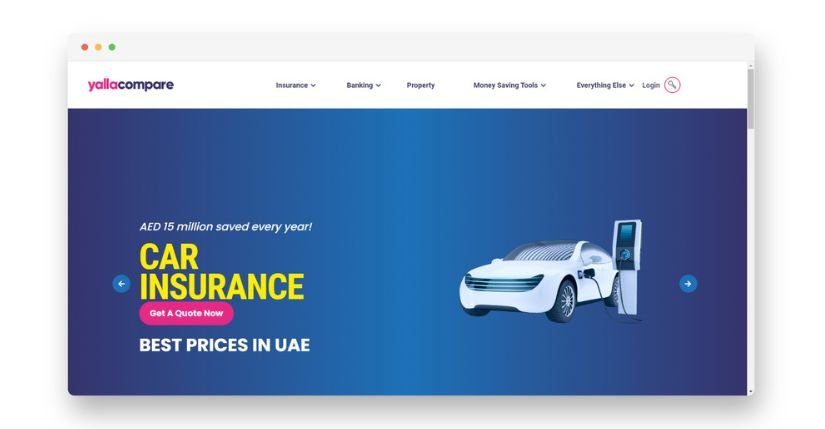 Products Offered :
Contact Details :
Phone: +971 4 562 2100
Email: support@yallacompare.com
Website: https://yallacompare.com/
4. Orient Insurance
Orient Insurance is a prominent name in Dubai's insurance industry, offering a diverse portfolio of insurance services designed to meet various needs. Their well-rounded marine insurance portfolio is managed by a team of dedicated professionals committed to delivering top-tier customer service. With over 15 years of experience, their Medical Insurance Division is well versed in providing quality healthcare coverage that addresses diverse client requirements. Orient Insurance also offers comprehensive property insurance, granted after meticulous risk inspection to ensure optimal protection. They are especially proud of their 'Motorplus', an attractive motor insurance package designed for superior coverage. Orient Insurance's blend of vast industry experience, commitment to customer service, and wide range of products position it as a reliable insurance partner in Dubai, making it a top contender among the leading insurance companies in the region.
Products Offered :
Contact Details :
Phone: +971 4 253 1 300
Email: Omer.Elamin@alfuttaim.com
Website: https://www.insuranceuae.com/
5. Sukoon Insurance
To become a regional benchmark for superior customer service, this insurance company is driven by a leadership team of seasoned professionals, each bringing unique expertise. Their vision is to offer exceptional insurance solutions that help create and safeguard wealth, encapsulating their commitment to unparalleled service. Their mission revolves around developing insurance propositions that not only meet but exceed the expectations of customers, business owners, employees, and shareholders. The core values that guide their operations include collaboration, a customer-first approach, the pursuit of excellence, integrity, and commitment to constant improvement. They believe in working as a unit, prioritizing customer needs, ensuring quality through deliberate practice, keeping promises, earning customer trust, and fostering innovation. This dedication to comprehensive service and a customer-centric approach distinguishes them as one of the leading insurance companies in Dubai.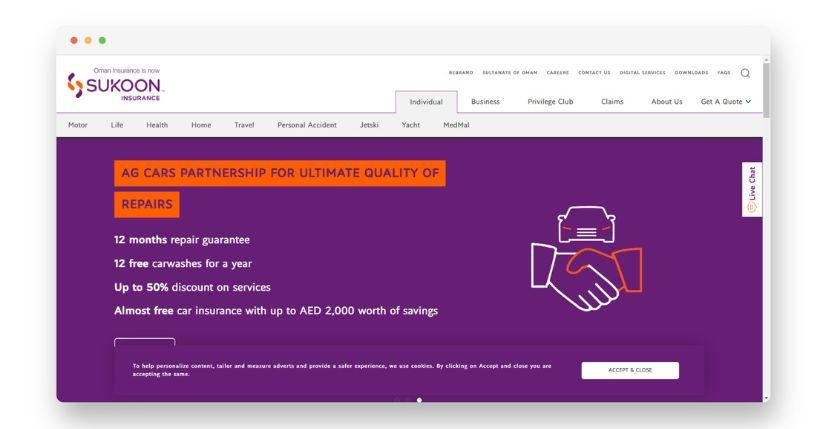 Products Offered :
Contact Details :
Phone: +971 4 233 7777
Email: service@sukoon.com
Website: https://www.sukoon.com/
6. Dubai Insurance
Established by the Late Sheikh Rashid Al Maktoum, Dubai Insurance Company (DIN) holds the honor of being the UAE's first local insurance company. Since its inception, DIN has continuously provided excellent service to its clients, with a significant transformation occurring under a dynamic Board of Directors in 2006. This transformation led to a tripling of the company's revenue and profitability, amplifying its client offerings while preserving the unique values laid down by its founders. DIN offers a diverse portfolio of products, ranging from Property, Liability, and Marine to Group Life and Medical insurance and more. Recognized for its outstanding performance, DIN holds an AM Best Financial Strength Rating of A- and a stable A3 Moody's rating. Committed to the community, DIN takes pride in its contributions and collaborations with government entities to ensure peace and protection through insurance.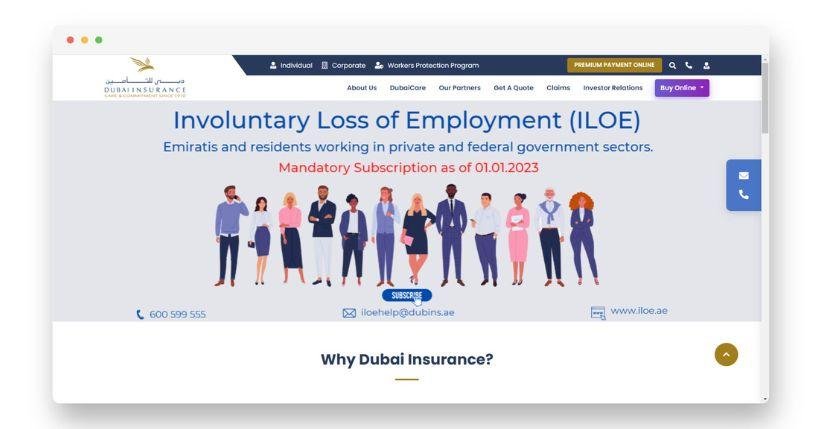 Products Offered :
Specialty lines Insurance
Contact Details :
Phone: 800DUBINS(382467)
Email: customerservice@dubins.ae
Website: https://www.dubins.ae/
7. MetLife
A trusted financial solutions provider for over 65 years in the region, MetLife has steadfastly committed to aiding customers to navigate life's various challenges. With its wealth of experience, MetLife has successfully adapted to the changing world, consistently enhancing its offerings while upholding its promise of guiding clients towards achieving their goals. The company is headquartered in Dubai, UAE, offering support to businesses in the UAE, Bahrain, Kuwait, Oman, and Qatar. As the American Life Insurance Company (MetLife), it is a duly established branch of a foreign insurance company registered with the UAE Insurance Authority under registration number (34). This position has allowed MetLife to create financial solutions tailored to individuals, families, and businesses, aiming for a future that meets their unique needs today and beyond.
Products Offered :
Accident and Health Insurance
SME Pre-packaged Solutions
Group Life and Disability
Contact Details :
Phone: 800 638 5433
Website: https://www.metlife.ae/
8. GIG Gulf (AXA Gulf)
GIG Gulf, previously known as AXA Gulf, is an 'A' rated regional insurance company with a longstanding presence in the GCC for over 70 years. With a strategic focus on growth and investments, GIG Gulf provides a comprehensive array of insurance products and services to meet the diverse needs of corporates, SMEs, and individual customers across the UAE, Oman, Bahrain, and Qatar. The company employs over 800 professionals across 15 regional branches, serving more than one million customers. GIG Gulf is committed to helping customers achieve their aspirations while also working towards becoming the digital insurer of choice in the region. As a company, they prioritize customer feedback and continuously evolve to offer better services. Their strong commitment to Corporate Social Responsibility (CSR) highlights their dedication towards making a positive impact on customers, partners, and communities.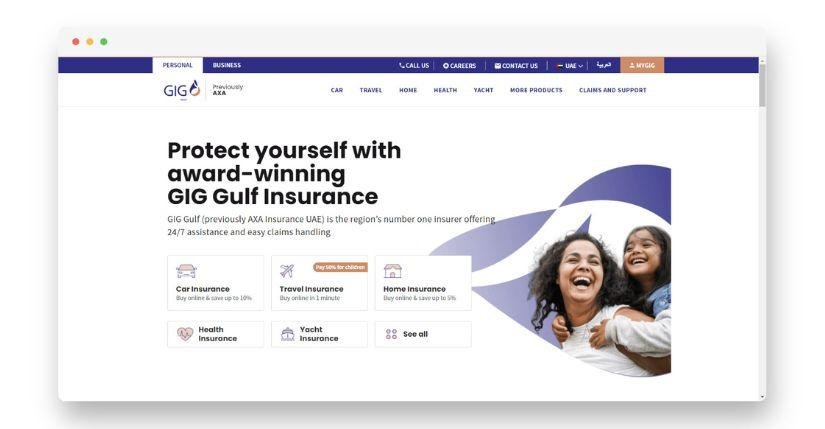 Products Offered :
Business Travel Insurance
Contact Details :
Phone: +971 4 507 4085
Website: https://www.giggulf.ae/
9. New India Assurance
New India Assurance, founded by Sir Dorab Tata in 1919, is a globally recognized insurance company with a strong presence in 28 countries. Having begun its operations in Dubai in 1961 under the reputable Rais Hassan Saadi Group, the company has cultivated an extensive portfolio across shipping, warehousing, travel, general trading, and real estate, along with insurance services. With its rich history dating back to 1920, New India Assurance is acknowledged for its extensive reach, trained and technically proficient staff, and a legacy of innovation, evident in pioneering steps like the establishment of its own training school, handling the hull insurance of the Indian shipping fleet, and introducing the concept of 'Model Office Training'. As of FY 2020-2021, it boasts a significant global gross premium and a robust asset base, further solidifying its place as a leading insurer in Dubai and beyond.
Products Offered :
Erection of Machinery Insurance
Plant and Equipment Insurance
Deterioration of stock Insurance
Contact Details :
Phone: +971 2 644 0428
E-Mail: niaauh@newindia-uae.com
Website: https://www.newindia-uae.com/
10. Zurich Insurance
A beacon of strength in the insurance landscape, Zurich Insurance is globally recognized for its comprehensive services and commitment to customer satisfaction. With a presence in Dubai for over 30 years, Zurich has evolved with the city, understanding its unique dynamics to offer solutions that perfectly align with individual needs. Our dedicated team of professionals across diverse nationalities leverage their collective expertise to tailor solutions that best suit your needs. Emphasizing transparency and a customer-first approach, Zurich stands as a reliable partner in safeguarding your assets, businesses, and, most importantly, your peace of mind. As part of the top 10 insurance companies in Dubai, Zurich continues to innovate, offering a range of products from life insurance to corporate risk solutions, and in doing so, empowers individuals and businesses to face the future with confidence.
Products Offered :
Critical Illness Protection
Contact Details :
Phone: +971 4 363 4567
Email: helppoint.uae@zurich.com
Website: https://www.zurich.ae/